Grilled Flank Steak with Basil Dressing
A potent marinade can boost the flavor of your steak—if you know when to use it.
Why This Recipe Works
For a grilled flank steak with a char-kissed exterior and a perfectly cooked interior, we had to revisit the idea of the marinade. A wet marinade is the enemy of good browning. On top of that, the test kitchen has proven that marinades barely penetrate the surface of meat. But since salt and sugar (when applied far enough in advance) do dissolve and penetrate deep into the meat, we skipped the marinade and simply seasoned our steak with salt, sugar, and pepper. To cook this wedge-shaped cut to the same internal temperature from end to end, we set up our grill with a cooler side and a hotter side. After briefly grilling the entire steak on the hotter side, we positioned the steak so that the thinner portion was over the cooler side of grill to save it from overcooking. And finally, we converted our unused marinade—a vinaigrette of olive oil, basil, lemon, honey, garlic, and pepper—into a sauce that we drizzled over the perfectly grilled steak.
Steak
| | |
| --- | --- |
| 1 | (2-pound) flank steak, trimmed |
Basil Dressing
| | |
| --- | --- |
| ¼ | cup chopped fresh basil |
| | |
| --- | --- |
| ½ | teaspoon red pepper flakes |
NUTRITIONAL INFORMATION
Per Serving (Serves 6)
Calories

349

Cholesterol

102 mg

Fat

21 g

Sodium

421 mg

Saturated

6 g

Carbs

4 g

Trans

0g

Dietary Fiber

0 g

Monounsaturated

11 g

Sugar

3 g

Polyunsaturated

1 g

Protein

32 g
The information shown is Edamam's estimate based on available ingredients and preparation. It should not be considered a substitute for a professional nutritionist's advice.
Featured Equipment
We season this steak with sugar in addition to salt and pepper to help promote browning during the relatively short cooking time.
1. FOR THE STEAK: Pat steak dry with paper towels and sprinkle with sugar, salt, and pepper. Transfer steak to plate, cover with plastic wrap, and refrigerate for at least 1 hour or up to 24 hours.
2. FOR THE BASIL DRESSING: Whisk all ingredients in bowl until well combined; set aside.
3A. FOR A CHARCOAL GRILL: Open bottom vent completely. Light large chimney starter mounded with charcoal briquettes (7 quarts). When top coals are partially covered with ash, pour evenly over half of grill. Set cooking grate in place, cover, and open lid vent completely. Heat grill until hot, about 5 minutes.
3B. FOR A GAS GRILL: Turn all burners to high, cover, and heat grill until hot, about 15 minutes. Leave primary burner on high and turn off other burner(s).
4. Set wire rack in rimmed baking sheet. Clean and oil cooking grate. Place steak on hotter side of grill and cook (covered if using gas) until browned on both sides, about 2 minutes per side. Flip steak again and rotate so that thin end is over cooler side of grill and thick end remains over hotter side. Continue to cook (covered if using gas), flipping steak every 2 minutes, until thick end of steak registers 125 degrees (for medium-rare) or 130 degrees (for medium), 2 to 6 minutes longer.
5. Transfer steak to prepared rack, tent with aluminum foil, and let rest for 10 minutes. Transfer steak to carving board and cut in half lengthwise with grain to create 2 narrow steaks. Slice each steak thin on bias against grain. Transfer steak to shallow platter and pour dressing over top. Serve.
Sear, Flip, and Rotate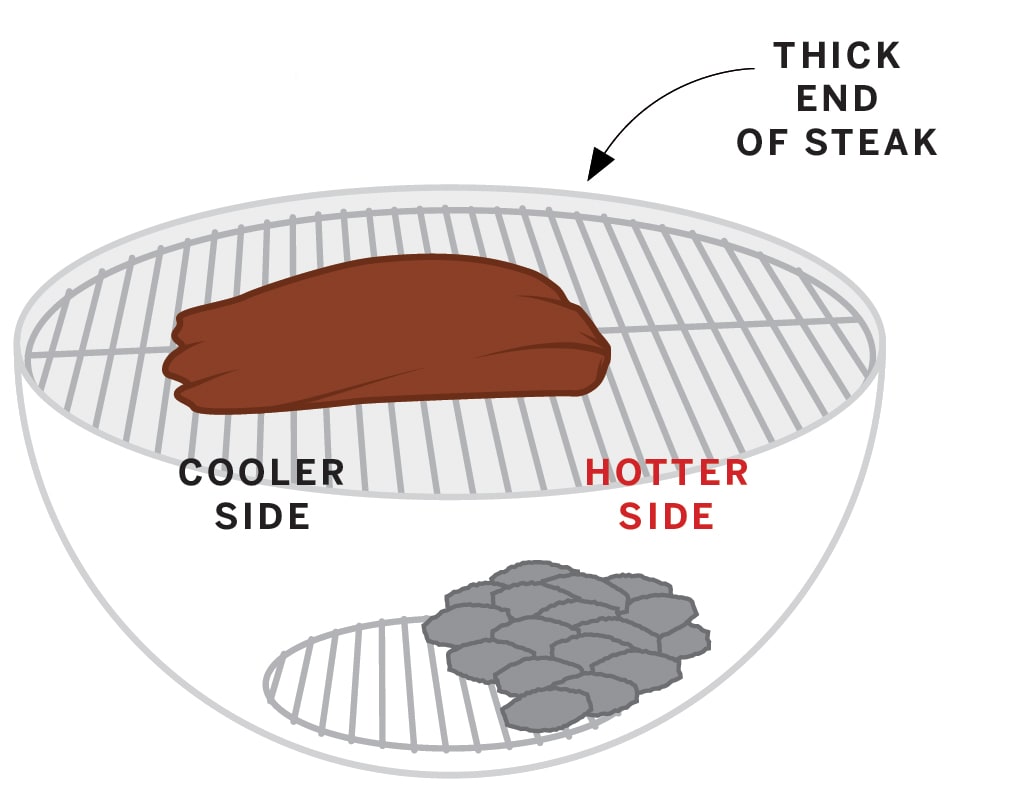 Flank steaks are considerably thicker on one end, so cooking them evenly requires some technique. We build a half-grill fire with a hotter and a cooler zone and start by searing both sides of the steak directly over the hotter side of the grill until browned. Then we position the steak with its thin end over the cooler side and its thick end over the hotter side to finish cooking.