Equipment
Meet the Unsung Workhorse of the Kitchen: The 4-Quart Saucepan
Dutch ovens get all the attention, but a great saucepan belongs in every kitchen.
Do you own a large four-quart saucepan? I'm surprised at how many people don't. Or maybe I shouldn't be, because the truth is you can do a lot in the kitchen without one. With a great pair of skillets (conventional and nonstick) and a Dutch oven, you can turn out excellent meals, from quick weeknight dinners to longer-cooking weekend braises.
Test Kitchen Winner
All-Clad d3 Stainless 12″ Fry Pan with Lid
You'll appreciate the wide cooking surface and low, flaring sides that encourage excellent browning and evaporation.
Test Kitchen Winner
OXO Good Grips Non-Stick 12-inch Open Frypan
Its gently flared sides and lightweight design makes it easy to load, unload, and move.
Test Kitchen Winner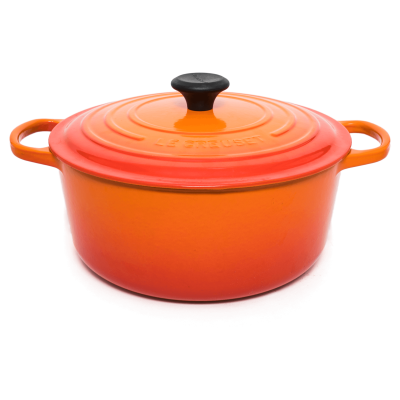 Le Creuset 7¼ Quart Round Dutch Oven
This perfect pot is substantial enough to hold and distribute heat evenly without being unbearably heavy.
But you'd be surprised how much you can add to your repertoire with a saucepan, especially if the guest list at your house is smaller. I use mine for small-batch suppers like Chicken and Rice for Two, for cool-weather soups like French Onion Soup for Two, and even for breakfast: scrambled eggs in a saucepan, stirred constantly over medium-low heat can't be beaten.
My number one favorite use for my saucepan, though, is reheating leftovers. Say you make a big batch of chili over the weekend. You enjoy it on Sunday night, then portion out leftovers to freeze in separate zipper-lock bags. Later that week, there's no need to break out the big guns for reheating; just use the smaller, and much easier to clean, saucepan.
When you're looking for a saucepan, the most obvious (and important) things to look for are a good weight and a tight-fitting lid. But to me, handles are key. You want a stay-cool handle that's comfortable to grasp, but don't sleep on the helper handle for lifting the pot in and out of the oven. It makes things easier.
You can spend a lot of money on a saucepan; our winning model usually sells for over two hundred bucks. It will, as they say, last forever, so it's a smart investment. But our best buy, which you can pick up for under $70, is no slouch.
Test Kitchen Winner
All-Clad Stainless 4-Qt Sauce Pan
Our longtime winner excels, with uniform, steady heating and good visibility inside the saucepan to monitor browning.
Our Best Buy
Tramontina Gourmet Tri-Ply Clad 4 Qt. Covered Sauce Pan
This pot's moderately heavy frame is easy to lift and scrape food from.
I had a great aunt who once told me that she kept her saucepan on a hook on the wall next to the door. That way, if a burglar tried to break in, she'd be able to hide behind the door and knock 'em over the head. Thankfully, this never happened. I think she'd watched too many movie capers in her day.